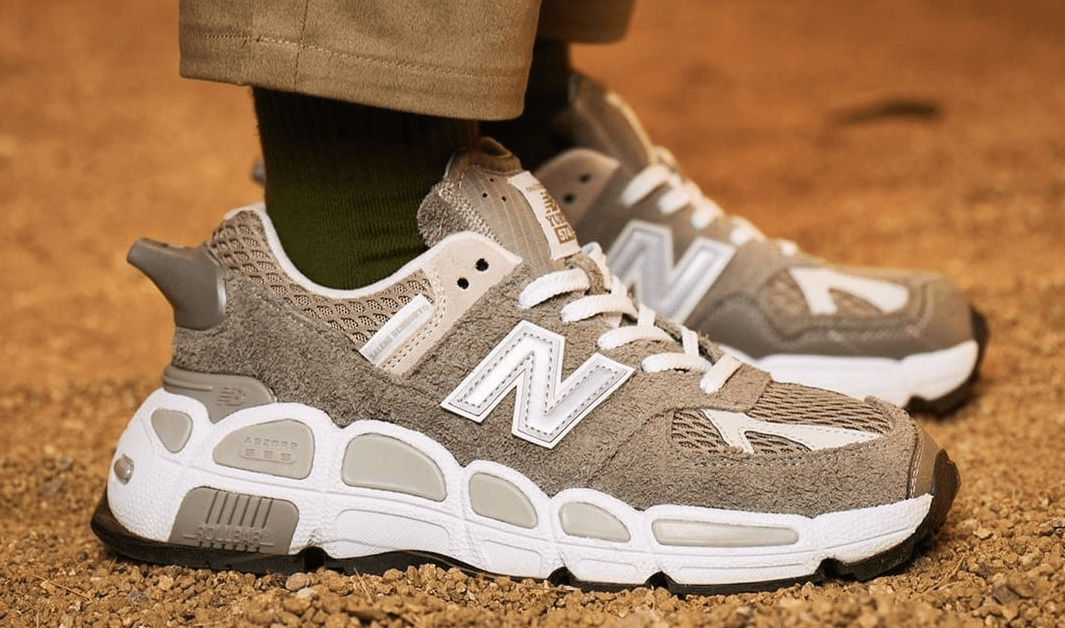 Salehe Bembury has given us a debut look at his next masterpiece with New Balance today, the "Yurt"-themed 574. Featuring some heavy modifications, Bembury's fourth New Balance collaboration is coming soon.
Salehe Bembury's string of collaborations with New Balance have been some of the hottest releases of the last two years, between the two halves of the "Peace be the journey, water be the guide" 2002R pack. Today, Salehe has taken to his Instagram to show off his next project with the Boston-based footwear brand, this time developing his own signature style of the classic 574. This time around, it appears Bembury was given full creative license to run wild with the silhouette, making major changes to both the upper and midsole along the way.
First up, the "Yurt"-themed 574 begins with a mostly intact upper, beginning with a wide gauge mesh base layer and reinforced by shaggy suede overlays. The tongue has been reworked to include performance materials and a new shape, while Salehe and New Balance branding are boldly places on the lateral sides. Finally, the midsole resembles nothing we've seen from a New Balance shoe, mixing soft Abzorb rubber cushioning blocks into an otherwise white EVA sole, mimicking the anatomical model of a human foot. Unlike any of Salehe's previous New Balance releases, this pair comes in a completely neutral palette, mostly utilizing shades of grey and beige for the multi-layered upper. Finally, the heels appear to be fitted with a whistle-shaped plastic piece, a design element likely inspired by outdoor gear and Bembury's penchant for hikes in the Hollywood hills.
SALEHE BEMBURY X NEW BALANCE 574 "YURT" RELEASE INFORMATION
The next project from Salehe Bembury and New Balance, featuring the designer's unique take on the 574, has not yet been announced for release, though they are likely to roll out sometime before the year is through. If past releases are any indication, these "Yurt"-inspired 574s will release from both New Balance and select retailers, as well as via Bembury's own website, beaspunge.com. Salehe has also noted that this release will come with a full apparel collection, which he has begun to tease via his Instagram stories this week. Check out Salehe's teaser images for a better look, and stay tuned to JustFreshKicks for more New Balance release news.
UPDATE 10/14/21: Salehe's upcoming "Yurt" 574s have now been announced for a global release after the debut, scheduled for October 22nd, 2021. Two colorways of the shoes and select pieces from the apparel collection will be available directly from New Balance, with select retailers also participating in this release.
UPDATE 10/6/21: Further details regarding Salehe Bembury's release of the "Yurt" New Balance 574 have been revealed, clarifying that the October 16th date is exclusive to the Spunge website, while a wider release (New Balance and select retailers) will go down one week later on October 22nd. All four colorways will drop at once, with a price tag of $150 each.
UPDATE 10/2/21: The upcoming "Yurt" New Balance 574, designed by Salehe Bembury, has now been announced for release by the footwear designer on October 16th, 2021. Announced alongside the unveil of the full collection, which features four colorways of the wacky runner and a massive apparel selection, the project will likely debut from New Balance and Bembury's BeASpunge website, though full release details have yet to be unveiled.