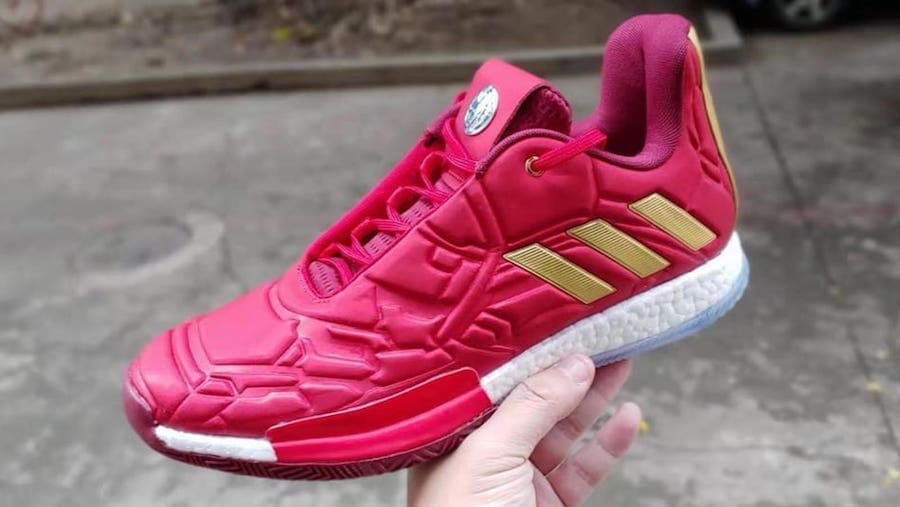 Marvel and adidas are back at it. After taking a few years off of their collaborative efforts, the two have teamed up for a limited edition adidas Harden Volume 3 built in the style of Iron Man.



It looks like Marvel and adidas are teaming up again for some character-driven footwear this year. Previously, the two have worked on several footwear collaborations, most notably working on the adidas Prime-Boost and adiZero Feather for 2015's Avengers: Age of Ultron, as well as a special "Captain Marvel" Speedfactory AM4 that released last week in honor of the new film. Now, some new early images could indicate another special Avengers release to celebrate Endgame, which debuts next month.
While adidas and Marvel have worked on themed character shoes in the past, this is their cleanest project yet. Using James Harden's Volume 3 basketball sneaker as a canvas, the design teams from both adidas and Marvel have morphed the upper into an incredible ode to Tony Stark's Iron Man armor. The upper appears to be made from neoprene, molded into different sections to mimic the part lines of Stark's battle suit. These sections are spaced and sized differently based on where they land on the shoes, with larger pieces taking over flat spaces like the toe box and quarter panels. The tongues feature dual Harden and Iron Man branding, along with an embossed Stark Industries logo on the heels. The colorway suits the hero perfectly, mixing Hot Rod Red with subtle gold touches.
The new project between Marvel and adidas has not been given any official acknowledgment from either brand, though if they are to release it will likely be closer to Avengers: Endgame's premiere date of April 26th. Due to the mysterious nature of this special pair of Harden 3s, they could just be an exclusive for JH himself. Check out the detailed images below for a better look, and stay tuned to JustFreshKicks for more information on a potential release.